The Parc de Recerca UAB presents the results of the laboratory of ideas of the Catalan dairy sector
21/03/2018
Parc de Recerca UAB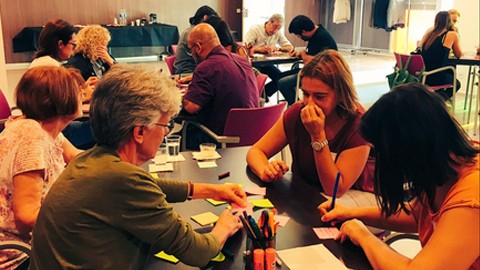 The Parc de Recerca UAB and the Department of Agriculture, Livestock and Fisheries (DARP) of the Generalitat of Catalonia presented the results of the Laboratory of ideas for the dairy sector, in which around 100 people and 40 companies participated, in addition to five Catalan universities.
The Parc de Recerca UAB and the Department of Agriculture, Livestock and Fisheries (DARP) launched last October a laboratory of ideas around the dairy sector with the aim of activating innovation in this sector through new forms of collaboration between companies, universities, institutions and users. The aim was to help develop a new model for sustainable value creation in the sector.
This initiative, the results of which have now been presented, included three different workshops with well-defined audiences and objectives, following the methodology of design thinking. Throughout the process, around 100 people and 40 companies participated, as well as five Catalan universities.
The first phase of the Ideas Laboratory focused on exploring the experience of the citizen as a consumer and his or her perceptions of milk and dairy products and their consumption. The document highlights, among other conclusions, that nostalgia and health are two predominant ideas and consumers' concern for animal welfare and the environment.
The second phase focused on the creativity stage where high value-added ideas are generated from all actors in the value chain. Among other ideas for improving the sector, they have talked about the personalisation of milk, the incorporation of technology, the search for new uses in the circular economy, the approach of farms to society and the improvement of communication.A list of proposals has also been drawn up, such as the development of new dairy products by modifying animal feed, milk as a means of transporting nutrients, a guarantee certificate for'happy cows', the use of by-products as a source of energy, intelligent products and packaging, the upgrading of waste, dairy-based cleaning products or new technologies for the distribution of fresh milk.
Finally, in the third phase, the ideas generated in the previous workshops were selected, which could be developed by different agents in the dairy sector and become a reality in the future. The document identifies the'vector milk','feed as an additive' and'cowfriendly milk' projects as the three best rated in general terms, taking into account the overall impact, niche profit and economic indicators of viability, profitability and scalability.

Back