TechnoPark MotorLand

Park: TechnoPark MotorLand
Member type: Full member
Address: Edificio Dr. Joaquín Repollés. P.T. TechnoPark MotorLand 44600 Alcañiz (Teruel)
Province: Teruel
Autonomous community: Aragón
Phone: 978 877 935
Fax: 978 877 936
Web: https://www.technoparkmotorland.com/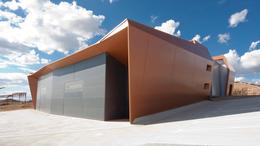 Contact:
Daniel Urquizu Sancho - Manager
Constitution date:
Technical data:
TechnoPark MotorLand is a space of and for people who seek to reinvent their present transforming it into a new future. We generate the differential value that companies and R&D&i centers demand, through modern and avant-garde facilities in a privileged environment, such as MotorLand Aragón.
We represent the differential and singular space that the innovative company pursues, taking advantage of the global capabilities of the group that already make up the companies installed in TechnoPark and adding in turn the ingredient that gives us the tradition, the passion for what we do.
You will not travel alone. A group of professionals will help you in the business adventure that you can undertake in TechnoPark MotorLand, our mission is to become your best partner and ally to achieve your challenges and goals.
Infraestructures and Spaces
Nest warehouses and business incubator.
Technologic Center 2WTC.
Offices and Laboratories.
Coworking Space.
Plots of innovative industrial floor.
Conference rooms, training classrooms and meeting rooms.
University Laboratories.
Motor Technical Centres.
6 circuits of world reference and with polyvalent designs.
Zaragoza University.
New FIM homologation program for Competition helmets
Promoter of International Competition MotoStudent
Support Services to park entities
Technological Transfer through the Universities.
Scientific dissemination and establishment of synergies.
Aids to the business establishment and cooperation.
Offer of unique and specific training activities according to applicants.
Accompaniment and support to the internationalization of projects.
Possibility to carry out tests in tracks close to the installations.
Services to Sports Teams, F1, Driving Institutes (or NIHs), Centres of Investigation and Formation, Homologation Centres, etc.
Security, surveillance systems and access.
View park companies