Parque Científico y Tecnológico de Castilla-La Mancha

Park: Parque Científico y Tecnológico de Castilla-La Mancha
Member type: Full member
Address: Centro de Emprendedores. Paseo de la Innovación, 1.02006, Albacete / Edificio Nuevas Empresas. Avda. Buendía, 11. 19005 Guadalajara
Province: Albacete
Autonomous community: Castilla - La Mancha
Phone: 967555300
Fax: 967555301
Email: pctclm@pctclm.com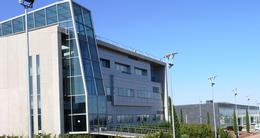 Contact:
Agustín Moreno Campayo - Director
Constitution date:
Technical data:
Nowadays it has 57 companies inside and about 1000 employees. Castilla-La Mancha science and technology park raise a park type capable to lead processes and innovation efforts that allow companies, research and technical development centres in collaboration with the two Universities located in Castilla-La Mancha (Castilla-La Mancha University and Alcalá University) to build a new economic landscape that encourages the productive sector renewal in Castilla-La Mancha. This will permit to face successfully the new knowledge society challenges.
Park is provided with several technology centers focused on different PCTCLM interest areas among which are:
Information and communication technologies.
Agrotechnology, biotechnology and biohealth.
Aeronautical and aerospace.
Renewable energies and energy efficiency.
Engineering, automatic and robotic.
Infraestructures and Spaces
Research Centres:
Renewable Energies Institute (IER) UCLM Associated.
Industrial Development Institute (IDI).
Albacete IT Research Institute (I3A) UCLM Associated.
Biomedical Research Regional Centre (CRIB). UCLM Associated.
Castilla-La Mancha Technological Support Centre (BILIB).
Castilla-La Mancha Neutron Monitor (CaLMa).
Business Centres:
Park installations are provided with meeting rooms, security and video surveillance services. It has offices and laboratories from 10 to 100 m2 customizable to different clients needs.
Entrepreneurs Centre.
Research and Development Centre.
Bioincubator.
Industrial Development Institute Building.
Business Incubator in Guadalajara.
Support Services to park entities
Meeting rooms with videoconference system.
Fibre and WIFI Network access.
The close relationship between Park and Regional Universities (UAH and CLM University) provides technology transfer and collaboration with research university departments.
Coworking.Virtual installation service.
View park companies