Companies of Science and Technology Parks increased 20%, employment 5% and billing 9%
15/06/2016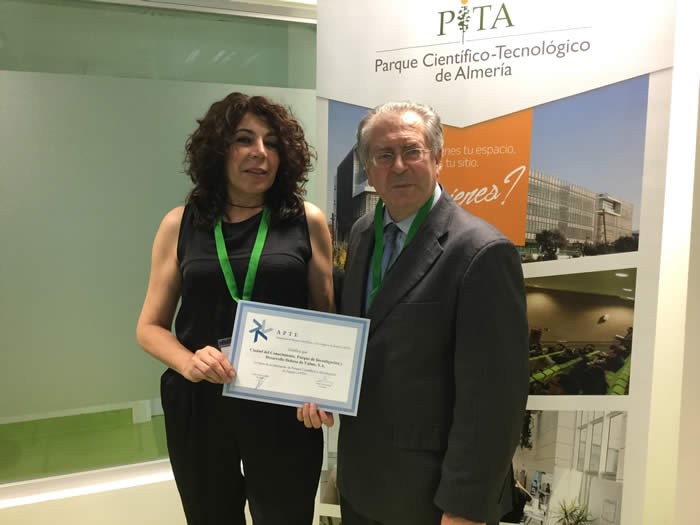 During the General Assembly APTE held in the Science and Technology Park of Almería (PITA) we have presented the statistics of the evolution of science and technology parks association members.
 
The City of Knowledge. Park Research and Development Dehesa Valme, S.A. Partner APTE new member.
 
Thirty representatives of parks APTE members met this afternoon at the Science and Technology Park of Almería (PITA) to hold the second General Assembly of the Association. Antonio Domene, director of PITA and Felipe Romera, president of APTE, were in charge of welcoming the attendees.
 
During the celebration of the Assembly, the parks have renewed the Executive Committee, which in the next two years will be chaired by Felipe Romera, on behalf of the Technological Park of Andalusia (PTA) and is composed of 14 members more: José Miguel Corres ( Technology Park network of the Basque Country) as Senior Vice President, Francisco Negre (Espaitec, Science Park, Tecnològic i Empresarial UJI) as Treasurer, Txaber Ouro (Science and Technology Park of Bizkaia) as Secretary and members Josep M. Piqué ( Technova Barcelona), Jose Luis Virumbrales (Charles III University of Madrid Science Park - Leganés Tecnológico), Francisco Mora (Polytechnic City of Innovation), Teresa Sáez (Scientific and Technological Cartuja Park), Antonio Verde (Science and Technology Park of Extremadura) Sonia Verde (Asturias Technology Park), Beatriz Casado (Technology Parks of Castilla y León), Ricardo Capilla (Tecnolóxico Park Galicia), Antonio Marcelino Santana (Scientific - Technological Park of the University of Las Palmas), Angel Ros (Agroalimentari Science and Technology Park of Lleida) and Xavier Meseses (Barcelona Science Park).
 
The new Executive Committee has the challenge of enhancing the activity carried out by the Association in three strategic areas: improving the positioning of the parks in the framework of R & D at regional, national and European levels, providing services and solutions value APTE members.
 
The representatives of the parks have approved the passage of Affiliate Partner member of the City of Knowledge. Park Research and Development Dehesa Valme. He has collected diploma Partner Carmen Gil, Deputy Economic Development and Innovation of the City of Dos Hermanas and charge the park.
 
The City of Knowledge is a response to a historical necessity of the Sevillian town of Dos Hermanas, linking the two main centers of its publication, the historical district and neighborhood Montequinto.
 
This park, which has 500,000 square meters, stands in an area of ​​2,500,000 square meters of Dos Hermanas, which include facilities and infrastructure to build more than 13,000 homes and a university with capacity for more than 5,000 students.
 
Evolution of parks
 
In the Assembly also it presented statistical data prepared each year by the Association and used to analyze the evolution of Spanish science and technology parks, which are very positive data in the last year.
 
APTE ended 2015 with a total of 69 members: 49 Members scientific and technological parks, ie, fully operational; 16 Affiliates; 2 associates, and 2 members Honorary Members.
 
Partners APTE parks closed last year with a total of 7,736 companies and installed in their enclosures entities, representing an increase of 19.9% ​​over the previous year. Of all enterprises, 314 are foreign capital and 974 are companies in incubation, with less than 3 years old. In addition, the parks totaled 910 entities, start-ups and installed in parks.
 
Employment has also significantly improved 4.8% increase in the number of workers in the parks, data which translates into 158,950 employees, of which 19.6% are qualified employees, ie 31,243 people specializing in research and development (R & D), representing an increase of 0.8% compared to 2014. 61.3% of employees are men and 38.6% are women.
 
The turnover of enterprises has also experienced a significant improvement over last year, reaching the figure of 24,427 million euros billed, 9.4% more than in 2014.
 
Also during 2015 the parks accumulated investment in R & D of 1,228 million euros, representing an increase of 10.4%.
 
The ranking of productive sectors where parks coalesce more companies still led by ICT with 22.7% of the business sector, followed by engineering, consulting and Consultants sector with 18.8% and Medicine sector health 6.5%.
 
In the section on patents, entities installed in operating parks APTE obtained 491 patents and 291 applied throughout 2015.
 
Directory APTE 2016
 
During the Assembly also presented the new edition of the Directory of scientific and technological 2016. parks This is a comprehensive guide to parks, bilingual Spanish-English, with all relevant information about the parks: promoting entities, contact information, services offered, facilities, photo gallery, etc.
 
The Association is working in the online edition, which will be completed shortly, free of charge and available to all via the website APTE.
Back